PET POLICY
We welcome your dogs and cats with open arms here at Marina Beach Motel!  In order to continue providing the best pet-friendly accommodations in Santa Barbara, we do charge a $20+tax per night, per pet Pet Fee to help us keep our pet-friendly rooms in perfect shape for all guests.  Please take a look at our Pet Policy and don't hesitate to contact us if you have any questions.
Pet Policy
• Pets must be declared at time of check-in
• Dogs and cats only
• Pet fee of $20.00+tax will be charged per night, per pet. Additional charges will apply if extra cleaning is required
• Pets are never to be left unattended at any time, anywhere on the premises. Your furry friend doesn't want to be left in an unfamiliar place, so please be fair to everyone and keep them with you.  If pets are left unattended and are disturbing other guests, Marina Beach Motel reserves the right to remove the pet from the property at the owner's expense
• Anything left behind by the pet must be disposed of promptly in the proper receptacle; plastic bags are available at the front desk. All cats must have a litter box to use and the contents must be emptied in the proper receptacle (never empty anything into the toilet)
• Please make it a point to take your dog to the designated "Doggie Restroom" near our sign when the need arises rather than our courtyard lawn. Doggie bags are available in the office
• Please ensure you have brought along a kennel, crate, or some type of bed for your pet; animals are not allowed to be on the furniture in the rooms
• Any damage the pet causes to Motel property will be charged to the pet owner
• Please refrain from bringing your pet into the front desk/office area during breakfast hours, 7:30 am – 10:30 am. After breakfast is over, pets are welcome to come in for a visit or a complimentary treat!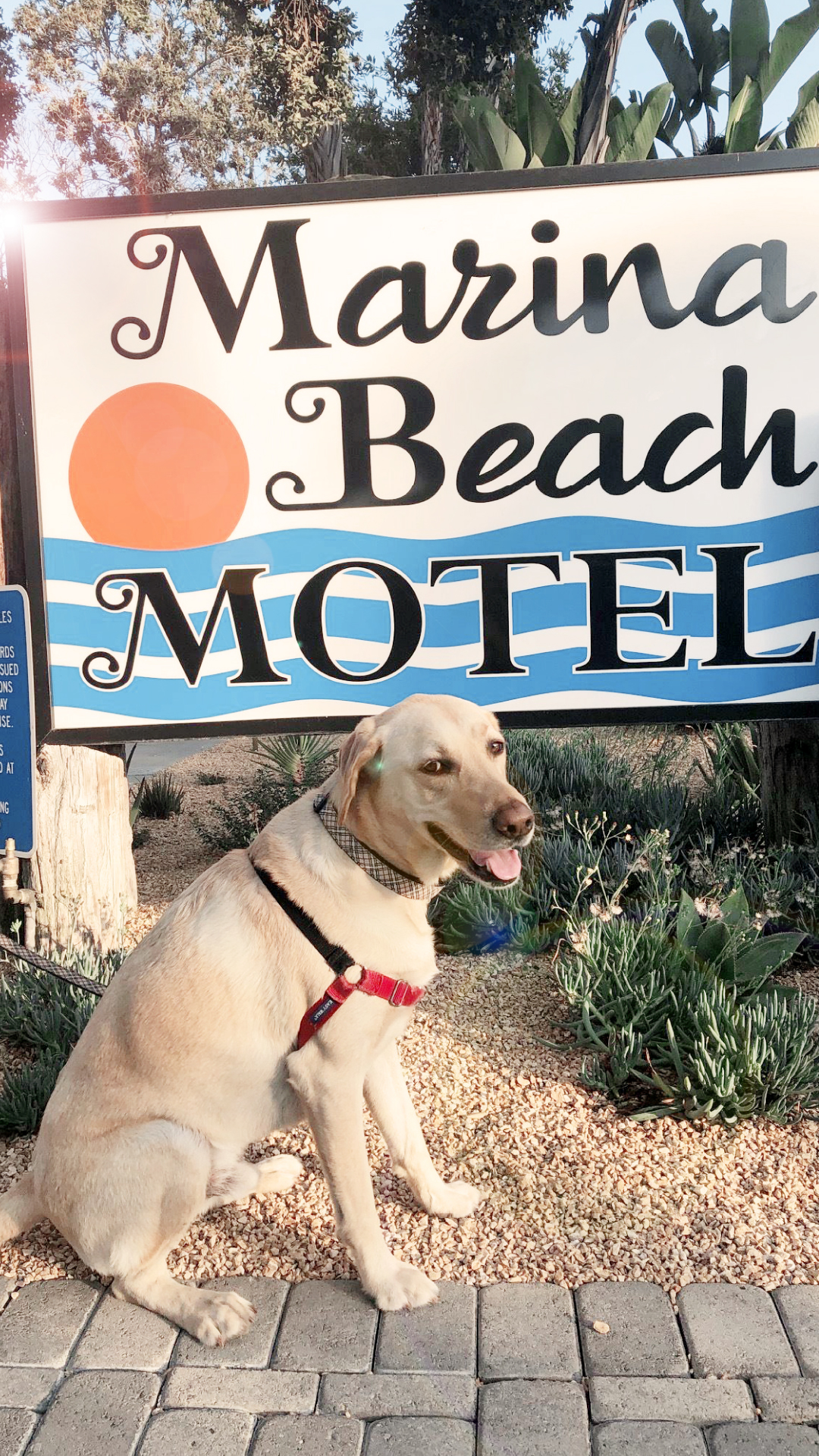 By bringing your pet to stay at Marina Beach Motel, you acknowledge and agree to these above terms.
You can download a copy of our Pet Policy here.